Kickserv
Un software fácil de usar para gestionar negocios de servicios.
Sobre Kickserv
Desarrollado y utilizado con confianza por miles de profesionales de servicios. Kickserv ofrece gestión completa de trabajos y gestión de relaciones con los clientes (CRM), programación, estimaciones, acceso móvil, facturación, distribución y más. Kickserv también se sincroniza con QuickBooks Desktop y Online y con Xero para ahorrar a los usuarios la información duplicada y permitirles ahorrar tiempo y dinero.
Kickserv está diseñado para fontanería, climatización, reparación informática, electricidad, albañilería, limpieza de alfombras, paisajismo y jardinería, servicio de limpieza, control de plagas y muchos otros sectores. Kickserv ayuda a gestionar ofertas, presupuestos, trabajos, programación, distribución, facturación y tareas con un calendario online compartido en el que se pueden completar los trabajos. Ofrece integración bidireccional con QuickBooks para acabar con la información duplicada.
Los usuarios pueden comprobar el rendimiento del negocio de un vistazo. Kickserv pone al alcance del usuario toda la información de clientes potenciales, trabajos y facturas. Con ayuda de los estados automatizados de Kickserv, los usuarios están al día de todo su trabajo. Desde consolidar un cliente potencial o administrar un equipo hasta cobrar pagos de los clientes: Kickserv ayuda a las empresas a funcionar de forma fluida con herramientas fáciles de usar para todo el equipo.
Precios desde:
US$ 47,00/mes
Versión gratuita

Prueba gratis

Suscripción
Las 5 mejores alternativas a Kickserv
Clientes habituales
Trabajadores autónomos

Empresas pequeñas

(2-50)

Empresas medianas

(51-500)

Empresas grandes

(500 o más)
Implementación
Basado en la nube

Entorno local
Disponible en los países siguientes
Australia, Canadá, Reino Unido, Estados Unidos
Precios desde:
US$ 47,00/mes
Versión gratuita

Prueba gratis

Suscripción
Las 5 mejores alternativas a Kickserv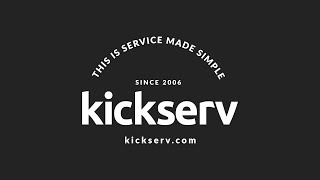 Funcionalidades totales de Kickserv: 137
API
Acceso móvil
Actualizaciones en tiempo real
Alertas de correo electrónico
Alertas de móvil
Alertas y notificaciones
Almacen de archivos
Almacenamiento de documentos
Aplicación móvil
Arrastrar y soltar
Automatización de marketing
Base de datos de clientes
Base de datos de contactos
Búsqueda/filtro
CRM
Campos personalizables
Captura de firma a través de dispositivos móviles
Captura de imagen
Citas recurrentes
Cobro de pagos en el terreno
Compras y recepción
Confirmación y recordatorios
Contabilidad
Controles o permisos de acceso
Costes de trabajo
Creación de informes en tiempo real
Creación de informes y estadísticas
Creación de informes/análisis
Creación de marca personalizable
Creación de órdenes de trabajo
Datos en tiempo real
Digitalización de documentos
Disposición de propiedades
Encuestas y comentarios
Enrutamiento
Estimaciones
Facturación
Facturación recurrente
Firma digital
Firma electrónica
Formularios electrónicos
Formularios personalizables
Fotos/imágenes
GPS
Gestión de admisiones
Gestión de citas
Gestión de clientes
Gestión de clientes
Gestión de clientes potenciales
Gestión de contactos
Gestión de contratos o licencias
Gestión de correo electrónico
Gestión de empleados
Gestión de equipos
Gestión de expediciones
Gestión de facturas
Gestión de flujos de trabajo
Gestión de la comunicación
Gestión de la disponibilidad
Gestión de las comunicaciones
Gestión de ofertas
Gestión de oportunidades
Gestión de pedidos de trabajo
Gestión de reservas
Gestión de rutas
Gestión de trabajos
Gestión de técnicos
Gestión de órdenes de compra
Gestión financiera
Historial de cliente
Historial de servicios
Historial laboral
Importación y exportación de datos
Incidencias de reparación
Indicador de disponibilidad
Informes personalizables
Integraciones de terceros
Integración contable
Integración de QuickBooks
Mantenimiento preventivo
Mapas geográficos
Mensajería
Modelos personalizables
Movilidad local
Movilidad militar y GSA
Pagos electrónicos
Pagos en línea
Pagos móviles
Panel de actividades
Para comerciales o contratistas de la industria eléctrica
Para el sector de la fontanería
Para el sector del bricolaje
Para empresas de climatización
Para empresas de control de plagas
Para empresas de limpieza de alfombras
Para empresas de mudanzas
Para servicio de campo
Para servicios de conserjerías
Pedidos recurrentes
Planificación de personal
Portal de autoservicio
Portal de clientes
Portal de clientes
Presupuestos y estimaciones
Procesamiento de facturas
Procesamiento de pagos
Procesamiento de tarjetas de crédito
Procesamiento de tarjetas de débito/crédito
Programación
Programación a tiempo real
Programación automatizada
Programación de citas
Programación de recursos
Programación de tareas
Programación de trabajos
Programación del mantenimiento
Recordatorios
Reprogramación
Reserva en línea
Seguimiento de actividad de plagas
Seguimiento de actividades
Seguimiento de costes
Seguimiento de estado
Seguimiento de garantías
Seguimiento de interacciones
Seguimiento de tiempo en línea
Seguimiento de trabajos
Seguimiento de ubicación
Seguimiento de uso de pesticidas
Seguimiento de uso de productos químicos
Seguimiento del tiempo
Seguimiento horas/gastos
Sincronización de calendario
Supervisión en tiempo real
Tareas recurrentes
Traslados comerciales
Tigerpaw Software
#1 alternativa a Kickserv
El software de gestión empresarial Tigerpaw One proporciona todo lo que necesitas para comenzar el proceso de automatiza...
BookingKoala
#2 alternativa a Kickserv
BookingKoala es un software de reservas online que está diseñado para ayudar a empresas de todos los tamaños a...
FieldEdge
#3 alternativa a Kickserv
FieldEdge es un software de gestión de servicios muy valorado que ayuda a administrar y hacer crecer las empresas de...
Jobber
#4 alternativa a Kickserv
Jobber es una solución de gestión de servicios externos basada en la nube que permite a las pequeñas y medianas...
Calificación general
(332)
---
¿Ya tienes Kickserv?
¡Ayuda a los compradores de software! Las opiniones sobre los productos son útiles para que el resto de los usuarios podamos tomar las decisiones acertadas.
Mostrando 5 opiniones de 332
Sector: Música
Tamaño de la empresa: 11-50 empleados
Software usado

A diario

durante

Más de dos años

Fuente de la reseña
Calificación general
Relación calidad-precio

Facilidad de uso

Asistencia al cliente

Probabilidad de recomendación

7.0

/10
Servicing Company - Long-time User
Revisado el 23/11/2021
Puntos a favor
- As a CRM software, we are able to manage all of our customers, scheduling, invoicing and reporting (not as bookkeeping or Financial Statements) in a generally good way.
- The inter-connectionedness of the various parts of the software makes it easy to navigate from one function to another.
- Although there has been some down time (which can be very difficult because we cannot function), but over the long-term it has not be crucial. Being an online CRM allows me to use any device.
- We are able to save virtually anything (pics, docs, etc.) for future use, which has been crucially important to us.
- The integration with Stripe for payment from our customers is now essential to our processes. It has worked flawlessly, easy to use, and easy to deal with Stripe for various things we need to do, including refunds.
- It works well for both our field service and in-shop jobs. This is crucial because using two systems would be very difficult.
-We are easily able to tailor the Products/Services, pricing, descriptions, to our specific needs - not being locked into some format that we don't like.
Puntos en contra
- Support is sometimes tedious.
- New features added (if we find out about them at all) can be very disruptive to our processes, and confusing. While some of them make sense in a wider world, they sometimes are baffling and frustrating in our business.
- We have 2 locations (and hope to have many more) and need to have separate systems. Kickserv requires us to use separate browsers for each. How are we going to be able to do that with 5 or 10 locations? And we're finding that some functions (e.g. access to support!) are no longer working on Firefox, one of the best and most popular browsers available. This is a serious problem for us.
- Although a great deal of our business is field work, we do not/cannot use the mobile app with our techs because it is far too limiting. They need to be able to access much more information than what is available to them, and so we have them login through a browser on their phones.
- There are essential functions that we have to do in business that Kickserv has not been able to program into the system (even when we offered to pay big $ to get them). E.g. There are several email templates, and auto sending emails: We need one to be sent as a follow up to Jobs, and another (sent out 6 or 12 months later) to remind people to schedule services . We have to do all of this manually, and would love to find a way to get it done automatically. Summary: Some things are hard to get into the software that other companies would also make good use of.
Respuesta de KickServ
Thank you Doug for your continued support and taking the time to leave us some feedback. We greatly appreciate it. Know that your feedback does not fall on deaf ears and we are always working on ways to improve Kickserv.
Sector: Construcción
Tamaño de la empresa: 2-10 empleados
Software usado

A diario

durante

Más de dos años

Fuente de la reseña
Calificación general
Relación calidad-precio

Facilidad de uso

Asistencia al cliente

Probabilidad de recomendación

10.0

/10
Best Value for Scheduling/invoicing software
Revisado el 23/11/2021
Overall, I have been more than satisfied with Kickserv. I initially navigated the platform pretty...
Overall, I have been more than satisfied with Kickserv. I initially navigated the platform pretty easily, along with ample help from the support team. Whenever I experience a problem, I receive help via the chat function from the same customer support members who are quick to provide solutions.
Puntos a favor
This product makes it easy to store a lot of data for our business including customers, project history, photos of job sites, notes for customers, dispatching crews to jobs, invoicing customers.
Puntos en contra
We experience some software bugs throughout use, which are often resolved with time. If I delete something on accident, there is not an undo button. If we change an estimate for a customer, there is no easy access to old records of past versions of the estimate unless we duplicate them every time we make a change. This can put us in a situation sometimes we are trying to substantiate claims to contractors about original estimates and the changes we made. Sometimes Kickserv will not work at all for a short period of time while our crews are on jobsites trying to upload photos/information or find their next jobsite, though this fairly rare. I wish there was an option to not allow credit card payments for certain invoices such as our contractors who are much larger jobs. Though, we have worked around this with different options such as sending a PDF instead.
Razones para cambiar a Kickserv
I did a one hour conference call with the ServiceTitan team and the platform seemed like it would be difficult to learn and was extremely expensive. They promised we would save money with the efficiencies the program would provide, but I just did not see it. Many of the functions they provided were completely unnecessary for our business when considering the cost of their service.
Respuesta de KickServ
Thank you for taking the time to leave us a review, as well as continuing to support us, Katielynn. If you encounter anymore issues, please don't hesitate to reach out. We will be happy to assist you with resolving any issues.
Sector: Servicios medioambientales
Tamaño de la empresa: 2-10 empleados
Software usado

A diario

durante

Más de dos años

Fuente de la reseña
Calificación general
Relación calidad-precio

Facilidad de uso

Asistencia al cliente

Probabilidad de recomendación

7.0

/10
Overall, I like Kickserv. I rely on it for my business, and the product continues to improve.
Revisado el 25/6/2017
It helps me manage four irrigation service technicians and keep them going where they need to go.
It helps me manage four irrigation service technicians and keep them going where they need to go.
Puntos a favor
Their web site when used on a desktop computer is great for scheduling and dispatching. We use it throughout the day to line up jobs for our technicians. Previously existing customers are easy to find using their search feature. I can add a new job, and then click a button and it sends the technician a text message with the job description and address. The technician can click on the address link and get the GPS coordinates on their smart phone. The workflow is logical and consistent. When things go wrong, they are good about communicating what is happening.
Puntos en contra
We are really only able to use part of the service. While it is excellent for scheduling, it is not useful for invoicing unless your invoicing needs are very basic. The product is not compatible with Quick Books groups. I don't use their mobile app. I prefer their mobile web site, but recent changes have made their mobile site less useful. Their server sometimes gets overloaded and the software becomes unresponsive. Tech support is inconsistent. Sometimes very helpful. Sometimes condescending. If a customer has an email address, it will automatically send this customer a reminder notice. There is no way to turn this feature on or off. For recurring jobs where we go back to the customer again and again, this is a problem because we don't always schedule the customer on the same day every month. It also gives the customer a link to the customer account center, which we also do not use, since we are unable to use Kickserv's invoicing feature.
While Kickserv continues to make improvements to the service, I frequently find myself frustrated because improvements are often not fully tested, resulting in unpleasant side effects. Example - recent formatting changes have made the scrollable area of their mobile web site very small and difficult to work with. Another change awhile back formatted all of my old customer data in such a way that their addresses would fail to appear in the text messages sent to my technicians. I am having to manually change all of these.
Calificación general
Facilidad de uso

Asistencia al cliente

Probabilidad de recomendación

9.0

/10
Kickserv is a still
Revisado el 9/12/2015
Puntos a favor
The product is simple to use and meets my customer service and scheduling needs for the price of the cloud software but also allows me to customize things without major programming or fees to get somebody else to do it. I paid for the Boot Camp training and was very worth it just to get things setup and understand the software. It sync's reliably with QuickBooks which has been a problem in the past for our company with other cloud based Customer Service Programs. The vendor has been GREAT! They feel like my team as they always respond within minutes to hours of my questions or problems I do run in to. I just send them a quick email and they help. Also they are always interested in my recommendations and are also getting feed back frequently from me and making improvements to the software. One thing that is great is that they provide a portal to the customer so any changes I make to an estimate or schedule or notes can be seen by the customer (they only see notes you want them to see). They can be abreast with what is going on with their work order. They also can pay for their invoice right online as well which I love so my customers have more control over their payment needs. Also our Kickserv is linked to our website so anytime a customer wants to contact us it creates an OPPORTUNITY in Kickserv for us to follow up on and notifies us via email that we have an interest. I would and have recommended Kickserv to other businesses.
Puntos en contra
This product does not handle the purchasing side of things which I would love to see. It sounds like they are looking into expanding this software to handle tracking purchases. Right now I just use QuickBooks for this. I also don't like the HTML language which is required for the setup of the invoice, estimates and work orders templates. It is hard to work with being I am not a programmer. I have managed to figure things out on my own with their help site and calling them. Its not a major issue but something I think they can improve on more. Again the Kickserv Team has been very helpful in anything I try to do or questions I have.
Sector: Seguridad pública
Tamaño de la empresa: 11-50 empleados
Software usado

A diario

durante

Más de dos años

Fuente de la reseña
Calificación general
Relación calidad-precio

Facilidad de uso

Asistencia al cliente

Probabilidad de recomendación

10.0

/10
Superior Elevator Inspections - We Love Kickserv!
Revisado el 24/6/2019
We have many customers that have many conveyances that we have to inspect per State requirements....
We have many customers that have many conveyances that we have to inspect per State requirements. Each has a different State Identification Number to record and track which we use in scheduling. We have to do much coordination between elevator contractors (Otis, Schindler, Kone, etc.), our customer building owners, and our inspectors. It's not always easy but Kickserv makes things much more manageable. Prior to Kickserv, spreadsheets, Word calendars and white boards were used...it was like the Dark Ages. :)
Puntos a favor
It's so easy to use and functions well for most of our needs. I LOVE the Special Instructions section and the clarity it provides in the Overview tab. Tags are also very helpful for our needs. The Resource calendar is fantastic too. Sometimes updates made in QB don't seem to come over to Kickserv in a timely manner but I think they usually do eventually. Overall, Kickserv has been a game-changer for us and I'm grateful every day for it's availability.
Puntos en contra
On my wish list is a feature that will allow me to duplicate contact information of one customer and paste it into that of another. We deal with many management companies who manage several of our customers and I have to re-type their contact info into each shared customer that we have. Reports are a little cumbersome to create but I did work in Salesforce.com many years ago and found that to be the case with them too.
Respuesta de Kickserv
Hi Sandy,
SUPER review! You have been a very loyal customer for over 3 years! Thank you. We do thrive on feedback from our customers like you. Your viewpoints were insightful, and I believe they will help others.
Preguntas frecuentes sobre Kickserv
He aquí algunas preguntas frecuentes sobre Kickserv.
P. ¿Qué tipo de planes de precios ofrece Kickserv?
Kickserv ofrece los siguientes planes de precios:
A partir de: US$ 47,00/mes
Modelo de precios: Versión gratuita, Suscripción
Prueba gratis: Disponible
P. ¿Quiénes son los usuarios habituales de Kickserv?
Los clientes habituales de Kickserv son:
Trabajador autónomo, 2-10, 11-50
P. ¿Qué idiomas admite Kickserv?
Kickserv admite los siguientes idiomas:
inglés
P. ¿Kickserv es compatible con dispositivos móviles?
Kickserv admite los siguientes dispositivos:
Android (móvil), iPhone (móvil), iPad (móvil)
P. ¿Con qué otras aplicaciones se integra Kickserv?
Kickserv se integra con las siguientes aplicaciones:
Dropbox Business, Google Calendar, Google Contacts, Mailchimp, Microsoft Excel, Microsoft Outlook, Podium, QuickBooks, QuickBooks Online Advanced, Quickbooks Online, Stripe, Xero
P. ¿Qué tipo de asistencia ofrece Kickserv?
Kickserv ofrece las siguientes opciones de asistencia:
E-mail/Help Desk, Preguntas frecuentes/foro, Base de conocimientos, Asistencia telefónica, Chat
Categorías relacionadas
Ver todas las categorías de software encontradas para Kickserv.